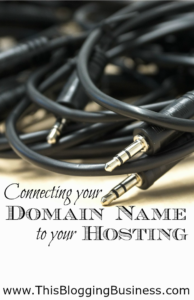 In this series on setting up your own personal development blog you will have gone through these steps first:
Now that you've registered your domain name at namecheap.com  (or whoever) and bought your hosting, you need to connect your domain name to your hosting account.
This is done with your domain name registrar (namecheap.com) by changing the DNS nameservers. Namecheap already have instructions for how to change the nameservers, check them out here:
1. Sign into your Namecheap account (The Sign In option is available in the top hat of the page).
2. Select Domain List from the left sidebar and click the Manage button next to your domain:
3. Find the Nameservers section and select CustomDNS from the drop-down menu and save.
The two nameservers that you need to enter into the step above are provided by HostGator. To find these, just log in to your HostGator account, go the the Control Panel on the left hand side and the nameservers will look something like this:
ns1231.hostgator.com
ns1232.hostgator.com
Just a note: Nameserver changes do not propagate instantly. Once your nameservers are changed, it may take up to 24 hours (more, in rare cases) for local ISPs to update their DNS caches so that everyone can see your website.
Just one more step to go!