In this series, we're going over starting your own personal development blog. If you haven't seen it already, we started out with Why you should start your own personal development blog.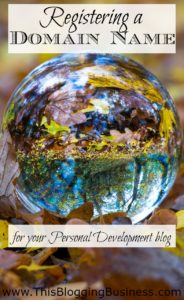 Right, let's get on to the next step, which is all about registering a domain name.
The domain name is the url or cyber address of your blog. For example, mine is www.thisbloggingbusiness.com.
Where to buy a domain name
You can buy your domain name from any name registrar like namecheap.com or  godaddy.com; or if you want to have a url with your country's extension (i.e. in NZ we use: www.examplesite.co.nz) then search for 'domain registration <your country>'. But if you want to be international, just go with .com or .net.
Choosing a domain name
When choosing your domain, think about what your site is going to be about. If it's going to be about personal development, then of course you're not going to choose a name like www.AucklandLandscaping.com
You can name it something about your topic e.g. www.MyPersonalDevelopmentBlog.com, or you could incorporate your own name into it e.g. www.MikesOwnJourney.com
Or you could just use your name www.MikeSmith.com
Or you could keep the name non-specific. A name that doesn't have to mean personal development, but could mean a number of topics. That's why I went with the name www.ThisBloggingBusiness.com. It's not too specific and it meant I could basically blog about anything. 😉
On the domain registrar you can search to see if the name you would like, is still available. You might need to try a few variations if the exact name that you want is already taken.

Just a note about your domain name – try to make the domain name reasonably simple. Avoid the use of hyphens or crazy spelling; it can get a bit confusing for your readers to remember how to spell it if they want to go there directly.
For example, if someone asks me the name of my blog, I can just say, "this blogging business dot com". If my url were something a bit crazy like: www.this-blogging-biznas.com I would have to say, "this hyphen blogging hyphen biznas, which is spelt B-I-Z-N-A-S, dot com". Yeah, not fun.
*You can buy your domain name through your web hosting if you want (see the topic on hosting below) but I didn't do it that way so I can't comment too much on that.
Once you've chosen the domain name just follow through the instructions on the site to make payment and that's it.
Keep going for the next steps in setting up your own personal development blog…