In this series we're talking about starting your own personal development blog. Before we talk about website hosting, make sure you've gone through these two steps first.
Great, now let's get into website hosting…
A website hosting service is the business that provide the technology and service needed for your website (blog) to be viewed on the internet. You website will be hosted on big computers called servers.
Sorry if that's a really dumbed down explanation. But I didn't get this stuff when I first started so I presume there's others that won't know it either.
HostGator
The host that I use and recommend is HostGator.com. There are plenty of others, so don't feel restricted to using just that one. But HostGator is the one that I use and I'm very happy with the service (and price).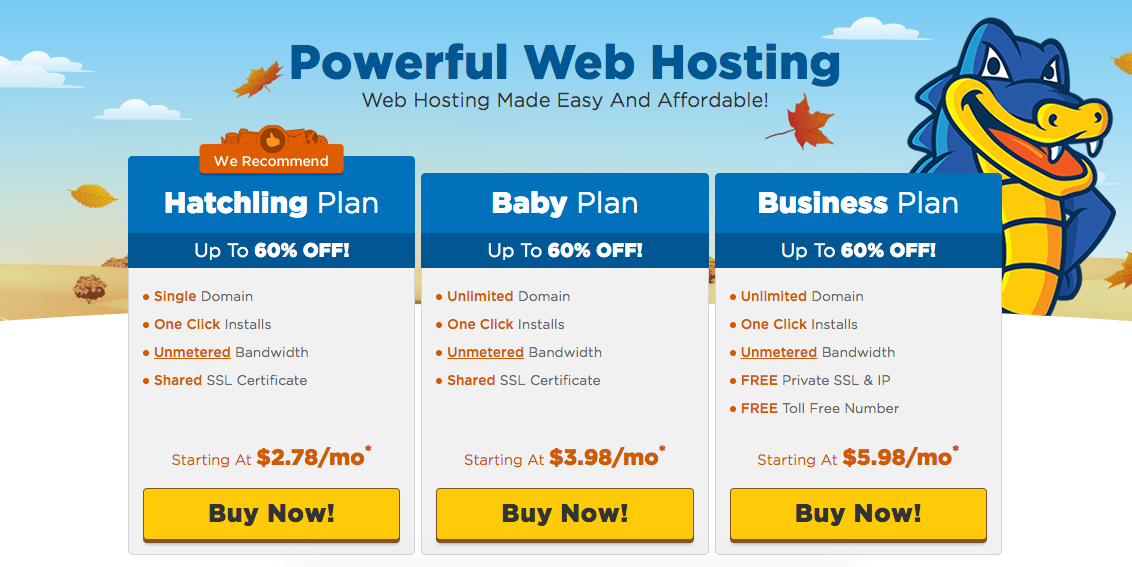 You can see that HostGator has three plans depending on how many website you want to host. For brand newbies I recommend the Hatchling plan; it's the cheapest and you can always upgrade later on if you want to add more websites.
Click on the plan you want (i.e. Hatchling).
The step by step wizard will take you through setting up your hosting. Just a few notes about a couple of the steps / questions:
Step One: Choose a domain
If you haven't already registered a domain name at GoDaddy or NameCheap, then you can select 'Register a New Domain', type in the name you want and HostGator will check to see if it's available and tell you how much it will cost.
If you've already registered your domain name, select 'I Already Own This Domain' and enter the name of your domain.
Step Two: Choose a hosting plan
Obviously the longer the term that you select, then the cheaper the monthly price works out to be. I started out with just 12 months; that's enough time to see if I like it and it's certainly not breaking the bank.
Step Three: Enter your billing info
Yeah… that's pretty self explanatory
Step Four: Add additional services
I'm not actually going to comment on these extra services and whether you should get them or not. Have a read through them and make your own call. For me, this is just me… I didn't select those extra options simply because I figured the first year of my blog is all about me just growing the blog, I figure these things can be added on as I need them. But you make your own call. Obviously.
And that's your hosting set up! Hostgator will send you a welcome email with all your account details.
Next steps: