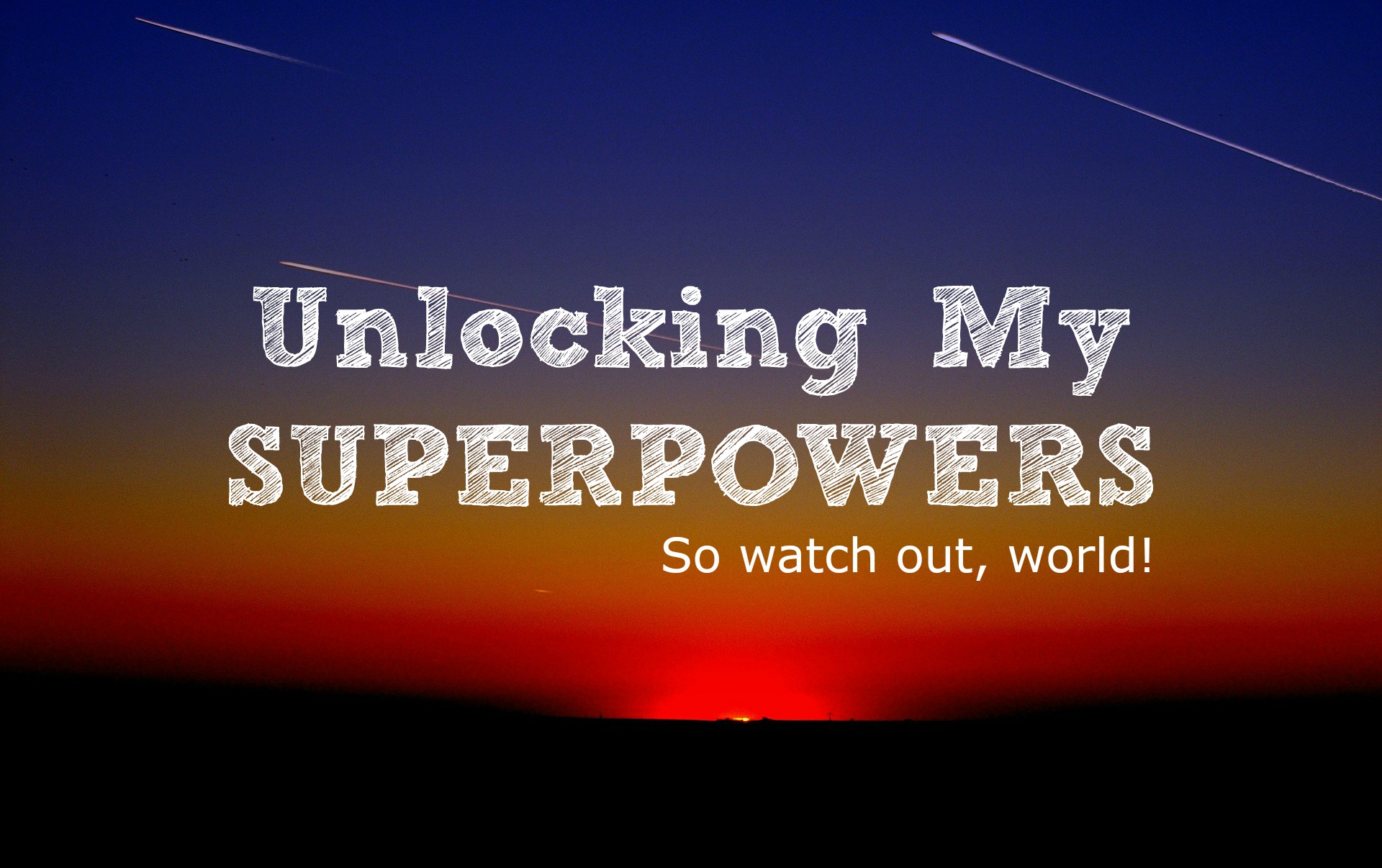 As we delve into Natalie's 10 Day Freedom Plan Blog Challenge Day 4 I'm amazed at how in-depth and introspective these questions (and the resulting post) is making me get. I always thought that in order to think deeply about my life, my goals and passions, and ultimately the direction that I want my life to go… that I had to take days off to contemplate the inner corners of my heart and personality.
Ha! Well as it works out, you don't need a lot of time. I've been pondering these things in the 1.5hrs before work (in between meditating, breakfast, Facebook [gulp, yes I just admitted that] and writing) and the 2hrs after work (while catching up with my husband, cooking and eating dinner). So its not necessarily the time that I needed, it was the right questions. Simple huh.
Okay, so todays challenge is to think about 1 or 2 superpowers that I have. I can find them by thinking about A) things that I'm good at ('good' doesn't have to mean great, or perfect, or exceptional. Good is just good.) B) things that I enjoy doing.
And because every fibre in my body tells me that it's 'bad' to talk about yourself, I've got my 'BE HUMBLE' alarm going off in my head. Screaming. At. Me. So I'm just going to turn her off. Well… maybe just put her on snooze until I've got this post written.
I'm not gonna lie, this topic has been the bane of my existence, ever since I decided I wanted to do something other than work at a job for the rest of my life. Finding the intersect of what I'm good at and what I like doing has been a challenge.
Good at:
Numbers
Listening to people
Getting to the root cause/motivation of peoples (bad) behaviour
Encouraging people
Travel planning/organizing
Cooking
Researching a topic
Writing
Looking for the best deals
Things I like doing:
Reading
Traveling / exploring
Researching a topic
Looking at houses/floor plans
Maximising space in a dwelling
Walking / being in nature
Being on/in the sea
Looking at property (for investing)
Road trips
Research
I don't quite know the proper words or phrases for this. But if there is something that needs research, I look and look and look AND LOOK until I feel I know the topic super well and can make/find the best deal/value for money thing available. It's something that I love doing and helps me to find great travel itineraries, accommodation and transport. I've researched the heck out of RVs and caravans looking for the most appropriate for my husband and I. Tiny houses. Investment properties.
How this intersects with making money? Stay tuned!